LIVING IN ALSACE
In the heart of Regio
Mulhouse lies in the heart of the Upper Rhine tri-national region. It offers the possibility to become more familiar with French, German and Swiss culture and to live in a cross-cultural environment. It is close to other cultural centers steeped in tradition like Colmar and Strasbourg in France, Basel and Zurich in Switzerland or Freiburg in Germany.
Located in an industrial area where chemistry plays a key role, Mulhouse is also surrounded by the Vosges and the Jura Mountains, the Black Forrest as well as the Swiss Alps, ideal locations for outings.
Useful link: www.tourismtrirhena.com
In the heart of Alsace

Mulhouse is the second largest city in Alsace, a region stepped in history as well as cultural and gastronomic tradition. Owing to its lifestyle and its varied landscape, with lowland, hills, mountains and forests, it is the perfect place to live and practice numerous activities.
Useful link: www.tourisme-alsace.com
In the heart of the city

Mulhouse, an urban area of 220 000 inhabitants, is renowned for being home to the largest hub of technical museums in Europe:  the national automobile museum (Musée National de l'Automobile – Collection Schlumpf), the fabrics printing museum (Musée d'Impression sur étoffes), the railway museum (Cité du Train) or the museum dedicated to electricity and its mysteries (musée Electropolis)…
Many venues also contribute to its cultural wealth:  the national theatre (La Filature), a cinema complex (Kinépolis), art-house cinemas (Bel-Air, Palace), local theatres and showrooms.
Useful link: www.tourisme-mulhouse.com
In the heart of the campus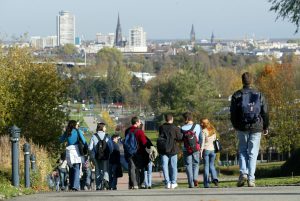 ENSCMu is located on the main campus of Université de Haute-Alsace, set in 25 hectares of gardens and surrounded by bicycle paths.  Easy to reach by public transport, the campus is a two-minute walk from a complex of sports facilities comprising the university gymnasium, an Olympic-size swimming pool, an ice-rink, a sports center, tennis courts as well as football and rugby pitches.
The campus is 10 minutes from the city center and it takes less than an hour to drive to and from EuroAirport Basel-Mulhouse-Freiburg.
Well aware of its role and duties in respect of the major challenges entailed by sustainable development and social changes, Université de Haute-Alsace implements an environmental management system and is ISO 50001-certified for its system of energy management.