LOCATION AND FACILITIES
A green campus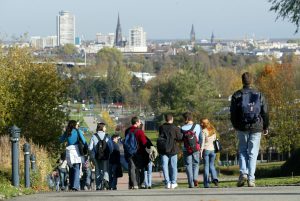 The National College of Chemical Engineering of Mulhouse is located on the main campus of Université de Haute-Alsace, set in 50 acres of gardens. UHA is committed to an environmental management scheme for higher education and has become ISO 50001-certified. ENSCMu students have access to all facilities and accommodation available on the campus: housing, catering, health services, sports facilities, culture… Easy to reach by public transports, the campus is 10 minutes from the city center. It takes less than one hour to get to the Bâle-Mulhouse EuroAirport.
Accommodation
The Mulhouse campus offers much-appreciated and affordable accommodation. The CLOUS (Centre Local des Œuvres Universitaires et Scolaires) makes available a great number of accommodation possibilities in halls of residence located within walking distance of the College of Chemistry. Information about accommodation types and rates can be found online.  There are also many rooms and apartments for hire in the private sector.
Useful links:
University catering
The CLOUS also manages university restaurants, notably the Resto'U de l'Illberg which is a 2-minute walk from the College. It comprises a self-service restaurant, a café and a takeaway, and provides food to eat-in or takeaway.
The pass-culture issued by Université de Haute-Alsace can be used to pay at all university restaurants in Alsace.
Transport
By bike
The College is located on the Illberg Campus, which is surrounded by bicycle paths and connected to the city's self-service bike rental service that comprises 40 stations in and around Mulhouse.
By bus and tram
The tram drives along the Illberg campus and connects the College to the city center and the main train station from the "University" stop. All bus and tram routes, timetables, fares and information are available on the Solea website.
Sports and cultural activities
Sports
ENSCMu students have access to the many sports facilities located on the campus or nearby – university gymnasium, Olympic-size swimming pool, ice-rink, football and rugby pitch, tennis court, sports center.
As the College of Chemistry is part of UHA, ENSCMu students also benefit from the services provided by the University's Sport and Physical Activity Service (SUAPS).
ENSCMu students also have their own football and rugby teams competing in local corporate leagues. These teams are part of the Sports Bureau of ENSCMu's Students' Union. They are also involved in many activities and events taking place on the campus.
Cultural activities
Mulhouse offers a wide range of cultural activities presented on the website of the tourist information office. ENSCMu students are entitled to concessions at all museums, cinemas, concert venues and playhouses located in Alsace thanks to the Carte Culture issued by the University.
The University's Cultural Activities Services (SUAC – Service Universitaire d'Actions Culturelles) also provides a certain number of cultural activities throughout the academic year.
Cost of living
Accomodation: from 300 to 400 euros for a studio
Food: around 3.3 euros/meal in university restaurants
Sports: 25 sports activities available in university gymnasium for free and sports activities organised by students at ENSCMu
Culture: Carte Culture issued by the University for free
Transportation: around 20 euros per month for a bus/tram subscription