RESEARCH AND EDUCATION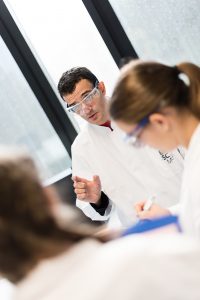 Teachings at the National College of Chemical Engineering of Mulhouse (ENSCMu) are based on research carried out on the Mulhouse campus within the center for Chemistry, Physics, Materials and Environment in various fields – organic and bio-organic chemistry, inorganic chemistry, macromolecular chemistry, materials, photochemistry, the environment and hazards, safety.
Professors share the latest developments in their field with the engineering students.
Students have to complete a research internship at the end of their second year of studies in order to become familiar with the world of research and to develop practical skills. This research internship lasts at least 8 weeks and can be completed in France or abroad.
First and second-year students may complete research projects on a voluntary basis. These so-called "ProjetsLab" are carried out in close collaboration with laboratories and research teams located on the Mulhouse campus.
Volunteers select one of the topics submitted by the laboratories and work with researchers, PhD students and professors from October through May. Once they have completed their project, all students present their results in public provided that there is no confidentiality clause. Research laboratories staff and external partners are invited to attend these presentations held on a dedicated "ProjetsLab" Day.